Wood carving can open up a whole world of possibilities, but that comes with caveats: One massive challenge for a beginner is finding the best wood for carving. How do you even know what wood to use when starting a woodworking project?
There are a lot of factors to consider in wood carving for beginners, but finding the best wood to carve is a huge step in the right direction.
In this post, I'll tell you a bit about seven of the best woods for carving, give a list of their pros and cons, and at the end give you our recommendation for which wood to choose!
Basswood
Basswood is a widespread type of wood for carving and is often highly recommended to beginners.
A lightweight softwood with characteristics like a light cream color and smooth texture, basswood has many proponents.
But what are its main selling points and some potential problem areas?
Advantages
The main advantage of basswood is its ability to handle detailed carving.
This makes it an excellent starting wood for beginners, and it also means that this is an optimal type of wood for sculpture carving.
Indeed, of all the wood for sculpture, I'd argue basswood is among the best – if not the best!
Disadvantages
That's not to say basswood doesn't have some downsides.
Softwoods like basswood are not ideal for all projects. Some woodworking projects, especially those meant to be displayed outdoors for an extended period, require a level of durability that basswood simply doesn't offer.
This lower durability also means basswood is generally more prone to decay than hardwoods.
Pine
Another softwood, pine, is definitely a strong favorite for wood carving enthusiasts everywhere. Pine is likely only second to basswood in popularity among all the softwoods for carving.
So, why is pine so beloved for carving, and is there a catch?
Advantages
Due to its softness, pine can provide extraordinary detail for carvers with minimal effort. This ability for detailed carving makes it an excellent wood for beginners and experts alike.
Pine also has a pleasant natural color and texture that helps add some style to your carving projects.
Disadvantages
At the risk of sounding pessimistic, there is usually a catch…and pine has a couple.
Many wood carving experts have noted that pine, because of its softness, tends to crack and end up misshapen far more easily than a lot of other woods. Plus, pine tends to have some knots throughout the wood that can be frustrating to work around, especially for less experienced carvers.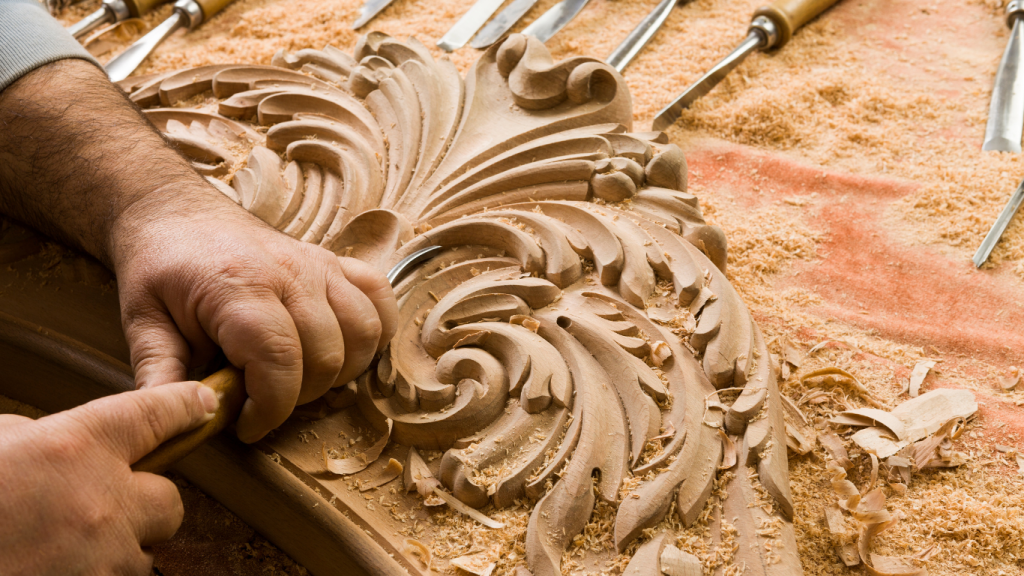 Cedar
Though it's not necessarily as popular of a carvingwood as some other woods on this list, cedar still ranks highly among many knowledgeable wood carvers and hobbyists.
But it's another softwood. Doesn't that mean it's basically the same as basswood or pine?
Not so fast! Cedar is very much its own thing.
Advantages
One standout benefit of cedar is that it's highly suited for utensil carving. Especially spoons!
In fact, of all the options on this list, I'd say cedar is the best wood for spoon carving. It has a sturdy property to it that allows for detailed and robust spoons.
Disadvantages
On the other hand, not all types of cedar are suitable for carving.
Northern White Cedar, in particular, comes with a brittle texture that can easily lead to breaking when used for more complex projects.
Aspen
Aspen is, like cherry, a hardwood, and it's also a common choice for expert woodworkers.
Let's discuss the strengths and blind spots of using aspen in your next wood carving project!
Advantages
Despite being a softwood, aspen is still soft enough to carve detail into it easily.
It won't be as smooth sailing as a softwood like pine or basswood, but it benefits from a sturdy, stable build. And it doesn't have any frustrating knots to work around, unlike pine.
Disadvantages
That said, using aspen for wood carving is undoubtedly more of a challenge than using softwood.
Because of its relative hardness and resistance, this is probably not the best wood for carving if you're a beginner or a more casual carving hobbyist.
Birch
Now, birch has made quite a name for itself in the furniture world. But how does it hold up when it comes to smaller wood carving projects?
Let's take a closer look!
Advantages
While few would claim birch is the best wood for carving, it's still a strong choice for different uses.
To be more specific, if you can get a hold of green birch (just a fancy way of saying freshly cut birch!), you can use it for wood carving projects that call for more durability, especially if you need to break out some power tools.
Speaking of which, if you're into using power tools for your woodworking pieces, the Dremel 4300 Rotary Tool Kit is hard to beat! Its comprehensive list of tools and carving accessories arguably makes it the best Dremel for wood carving.
Disadvantages
Unfortunately, you'll see some very definite downsides if you decide to use birch for your carving.
Probably the most concerning disadvantage of birch is that it is highly susceptible to rot. So, definitely not a great choice for projects you want to display and cherish for many years to come!
Cherry
What about cherry? Can you have a successful wood carving project with cherry as your base?
Yes! Well, yes and no.
Like many kinds of wood, some aspects of cherry are great for carving, and others…not so much.
Advantages
Unlike many of the woods we've discussed, cherry is a hardwood. This is both an advantage and a disadvantage.
The main benefits of carving a hardwood like cherry are its strength and stability.
If you're worried about a project crumbling, cracking, or breaking under the pressure of your tools, cherry will ease your mind!
Disadvantages
But cherry is probably not the best wood for carving. For a couple of reasons!
First, as a hardwood, cherry is definitely not beginner friendly. The texture is stubborn and challenging to whittle around.
Likewise, if you're working with cheap or dull tools, Cherry will almost certainly give you a hard time. However, this problem can be counteracted by using a kit full of sharp, quality whittling tools like this Trafagala Wood Carving Set.
Black Walnut
Lastly, we have black walnut!
We're finishing off the list with another hardwood. While more often used for building cabinets and large pieces of furniture, black walnut is still the wood of choice for a select group of wood carving experts.
Advantages
Right off the bat, black walnut is strong. Really strong!
Its sturdy toughness makes it an excellent choice for projects that call for a higher level of durability, and it's also highly cooperative with machine carving.
Disadvantages
Black walnut suffers from the same flaws as most other hardwoods: Its strength.
While a strong wood can be an asset, it's also a liability if you're looking for something easy to whittle down and carve fine details into. Hardwoods like black walnut will fight you every step of the way.
Final Recommendation
While you wouldn't go wrong with choosing any of the seven woods on this list, I'd have to recommend basswood as my #1 choice!
Its softness, versatility, and ease of use for detailed sculptures and figure carving have easily secured its reputation as the best wood for carving in the eyes of most beginners and experts.
*This post may contain affiliate links. Please see my disclosure to learn more.